About me
I am a Berlin-based massage practitioner, certified by Spirit Yoga Berlin since June 2018 where I mastered the practice of Swedish massages. I have also learned the basics of Shiatsu and can incorporate on request acupressure on the meridians during our sessions. Each massage being unique, my interest lies on supporting my guest on a physical and energetic level through touch. In addition I am a professional dancer in contemporary dance and a 3d year student of Feldenkrais in Berlin. Both practices are deeply informing my approach to the body. My practice is a safe space for Queer and Flint* communities.
Reviews
Feldenkrais
SUMMER BREAK! BACK IN SEPTEMBER!
Prise de conscience par le mouvement, en français tous les lundis soir de 18h30 à 19h30 (HNEC).
Retrouvez le cours en vidéo conférence sur Zoom.
---
Awareness Through Movement lessons, in English every Thursday evening 19pm-20pm (CET) online on Zoom.
Philosophy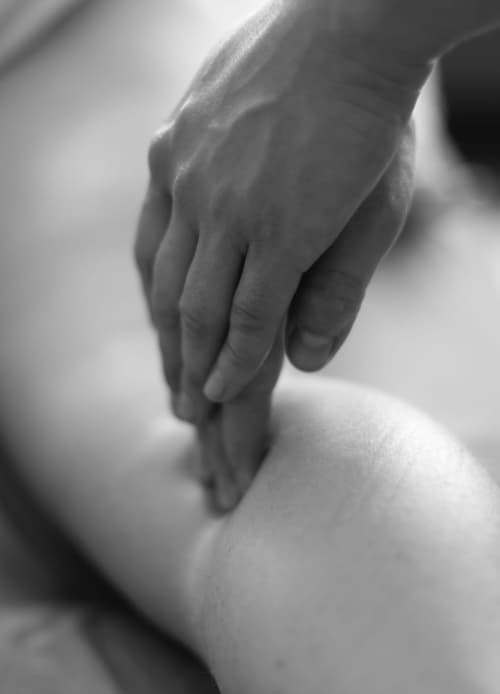 Every massage is unique. My interest lies in supporting the guest on a physical and energetic level through touch. Nevertheless, the use of voice, vibration of the vocal cords as well as conscious breathing exercises might be suggested and are essential to keep in touch and feedback with each other.
Massages
Aroma Oil Massage

Oil based massage to release from daily stress . There are different variation, see examples : - Flowing full body massage: brings in more energy, is faster, energetic and stays more on the superficial level of the muscles - Relaxing full body massage: brings to a deep relaxation, is slower, calmer and allows a good balance between superficial and detailed work of the muscles

Deep tissue Massage

Less oil or no oil, working on fascias, body patterns, source of tensions and trigger points.

Massage for 2

You are a couple/flatmates/friends that want to learn the basics of classic massage together. This is for you! The 4 hours workshop will focuse on one body part and be divided as following - meditation and self awareness exercise in relation to the chosen body part- anatomy overview - observing and analyzing patterns-getting in touch with the partner through massage with or without oil- More details and a questionnaire to fill up will be given via email before the workshop.